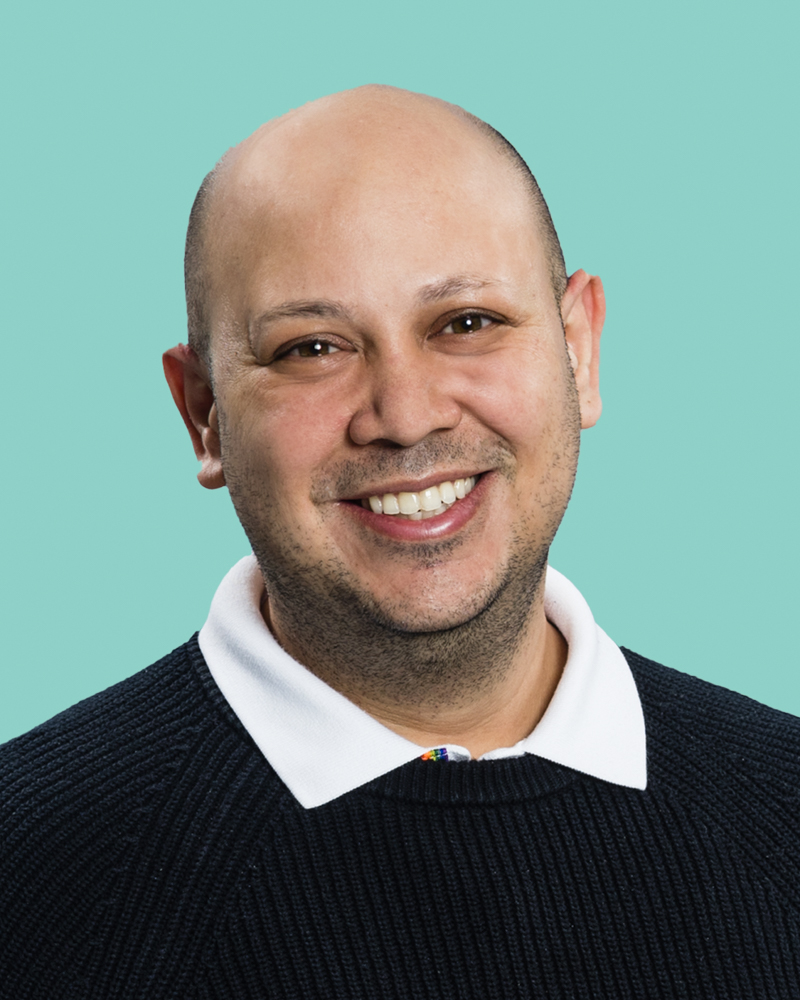 Q&A:
Luis Gonzalez
Meet Luis Gonzalez, one of Patina's Health Champions. As a Health Champion, Luis is the go-to advocate on his patients' dedicated care team. His job is to take the time to know each patient he works with, understand their needs and goals, coordinate care, locate resources and answer any questions they might have.
Luis lives in the Mayfair neighborhood of Philadelphia, where he enjoys trying new cuisines, volunteering for the local animal rescue and spending time with his family (especially his two dogs, Tobbie and Rosie). A graduate of LaSalle University, Luis has a background in education and healthcare. We asked Luis a few questions about his role as a Health Champion, how he likes to work with patients and more. Q: Tell us a bit about yourself.
I was born in Puerto Rico, and I live in Mayfair, Philadelphia. It's a cultural melting pot, which I love. I enjoy visiting all the different restaurants in my neighborhood. I am obsessed with my dogs, Tobbie and Rosie, and I volunteer as a transporter for a local animal rescue in my free time. Helping animals get the love, care and attention they need is a personal goal of mine, but it is hard to not adopt every animal I work with!
Q: What were you doing before you joined Patina?
I'm a former ESL tutor for the School District of Philadelphia. I went to school for accounting at LaSalle, but after working in the banking industry, I realized I wanted to work with people, not numbers. As a tutor for the school district, I discovered how much I enjoyed working in a field where I can help people and impact their lives for the better – even in small ways. After the Great Recession, I transitioned to a role in the healthcare industry. It didn't take long for me to see how difficult it could be for people to navigate the healthcare system.
Q: What drew you to Patina?
I wanted to work in an environment where I'd be able to know the people I'm helping, and leave a mark on their healthcare and aging experience. I value the relationships that I build with my patients. I believe you get what you give, and you are what you give. There will be a point in my life where I will need somebody who does what I do every day – helping people get care, listening to their experiences and finding ways to get them what they need. I cherish the fact that I am someone my patients can lean on, laugh with and sometimes even cry with. Patina gives me the opportunity to be that person for my patients – I can't do that anywhere else. It shows how much we are changing the healthcare industry and how far we're willing to go to make a difference in our patients' lives.
Q: What are some things you can do as a Health Champion that the average primary care office wouldn't be able to do?
The typical interaction in a doctor's office can feel very transactional – you go in, you wait, you see a doctor for 15 minutes, you pay your copay and you're on your way. As Health Champions, we are in a unique position to spend all the time we need getting to know our patients and their goals, values and preferences. It's my job to make sure they're heard and supported at every step in their healthcare and aging journey. It doesn't matter if I need to spend five minutes or an hour talking to my patients – time is not a factor when they need something, whether it's help finding a resource, coordinating care between different providers, troubleshooting technology or when they need to tell someone about their day. My conversations with patients are anything but transactional. I strive to provide the level of service I would want my own family to receive from their care team.
Q: How do you work with your patients at Patina?
It's important to me that I'm always working to get my patients to a place where they can live their best life. A big part of that is being present and available when my patients need me. I'll speak with them before an appointment to make sure they have everything they need, after an appointment to help them figure out what they need to do next, and between appointments just to say hello and check in on their goals. Goal-setting is something I do with all of my patients when we begin working together. In my initial conversations with new patients, I'll take as much time as I can to make sure I understand their values, their preferences for their care experience and their immediate and long-term goals. There's a satisfaction I get from being able to help a patient achieve a goal, or do something they may have thought was impossible, that I can't get anywhere else. I also help my patients with much more practical matters, such as getting claims processed and navigating benefits.
Q: How do you coordinate care for your patients?
Behind the scenes, I work hand-in-hand with the rest of the Patina care team to make sure every patient has a seamlessly coordinated care experience. The care team is always on the same page – we do the legwork to make sure every practitioner has an understanding of what's going on with a patient's health before their visit. I make sure our care team gets notes from every single specialist visit, so we can keep track of what's going on with our patients' health and help them manage their appointments.
Q: How do you work with patients' family members who want to stay in the loop and be involved with their loved ones' care?
A lot of my patients want their family members involved in their care. As their healthcare champion, it's my job to make sure they have everything they need to participate as members of the care team. I'll communicate with them through the mobile/web app, over the phone or through email. I'll make sure they're aware of appointments, help them set up their loved ones' virtual visits and ensure I'm following up with them afterwards. I stay connected with them throughout my patients' healthcare journey, and make sure they're in the loop every step of the way.
Q: What life lessons have you learned from your patients?
Appreciate what you have, and don't take anything for granted. Take advantage of every waking moment. I learn so much from my patients, and they always share nuggets of wisdom with me.