A better primary care experience for your Medicare clients.
Let's work together to give adults 65+ the care they deserve: healthcare truly built around them.
Our care model is virtual-first, complemented by in-home, in-person visits when appropriate. Since there is no physical office, your clients won't have to delay important primary care appointments, or waste time driving and sitting in a crowded waiting room, or be rushed through their PCP visit.
Patina is reinventing primary care.
Here's how we're different: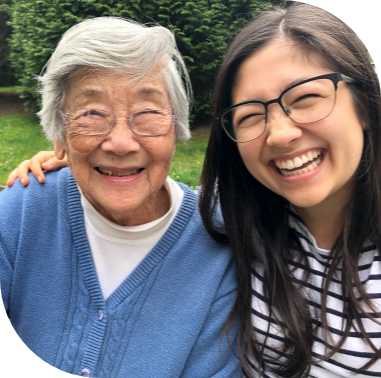 Patients get easy access to their care team whenever needed – any time, any place.
Our easy-to-use mobile app uses text, video and messaging to let patients ask questions, get advice or conveniently schedule their next appointment.
Your client's Patina health champion is always here for them.
A Patina health champion is your client's 'go-to' person – always there to help with any question, schedule appointments, coordinate care and more.
We come to patients in the comfort of their home.
No need to travel to the doctor or waste time in a waiting room. We give your clients all the time they need; visits are never rushed.
Clients can include family and loved ones as well.
Patients can choose who to include as part of their team – and have them participate in appointments virtually or in-person.
Who is a good fit for Patina?
Patina is for everyone over 65+. No matter their current health or individual needs, we are here to give them an exceptional healthcare experience, and help them get more out of life. Here are profiles of those who have chosen Patina.
New to Medicare and Active/Healthy
Those just turning 65 looking for a new, better primary care experience; as well as busy adults in good health who value convenience. Features that are most attractive include the in-home experience (no more time wasted traveling to the doctor's office) and virtual visits, plus easy access to their care team via the Patina mobile or web app.
"Need a Quarterback"
Those who have more complex conditions and multiple specialists – they like that Patina health champions remove the complexity and hassle of managing appointments, communication between specialists, and advocate for them in all aspects of their care.
Family & Loved Ones
Patina removes a lot of the stress and worry from caregiving by providing health champions to coordinate care. Patina can make caregivers part of the care team, making it easy for them to participate in all aspects of care.
"No Place Like Home"
Those who really value the safety and access to a team through care that takes place in their own home; they may have mobility issues or just like the convenience of not having to travel to a doctor's office to get their primary care.
"Win Me Over"
Those who may be dissatisfied with their current PCP; looking for a better experience and relationship. Their long-time PCP may have retired, or because of their frequent use of specialists, they may not have a close relationship with their PCP. In some cases, they may not even have chosen a PCP.
Refer a Client
Email us at brokers@patinahealth.com. Include your name and phone number, and your client's name and phone number.
Helpful Information
Tools to help introduce Patina to your clients.
Request Materials
Order Patina information for your clients by emailing
brokers@patinahealth.com. Include mailing address and quantity.
Patina accepts Medicare, Medicare Supplement and most Medicare Advantage plans.
Patina accepts Medicare and Medicare Supplement plans. We're also an in-network provider with most major Medicare Advantage plans in the Philadelphia area, including Philadelphia, Bucks, Montgomery, Delaware and Chester Counties, as well as plans across the Charlotte area, including the following ten counties in North Carolina and South Carolina: Mecklenburg, Union, Gaston, Cabarrus, York, Chester, Lancaster, Lincoln, Iredell and Rowan counties.
Get more information on participating plans here.
Helpful information
Here are some tools to help introduce Patina to your clients.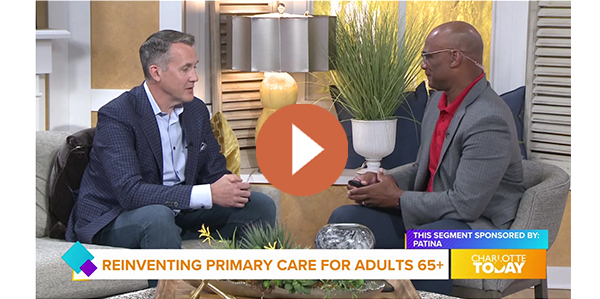 Patina videos:
patinahealth.com/videos for interviews with our care team, older adults talking about getting a better care experience, and more.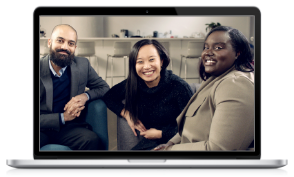 Information webinars:
regularly-scheduled sessions to learn about Patina and meet our care team.
Questions? Please visit Patina Frequently Asked Questions
General Broker Inquiries? Please call toll free (855) 478-8308
(Including partnering with Patina for events/or need for Patina marketing collateral)
Would you like to order printed information?
Interested in creating joint or co-op marketing programs like mailers and participating together in local community events?