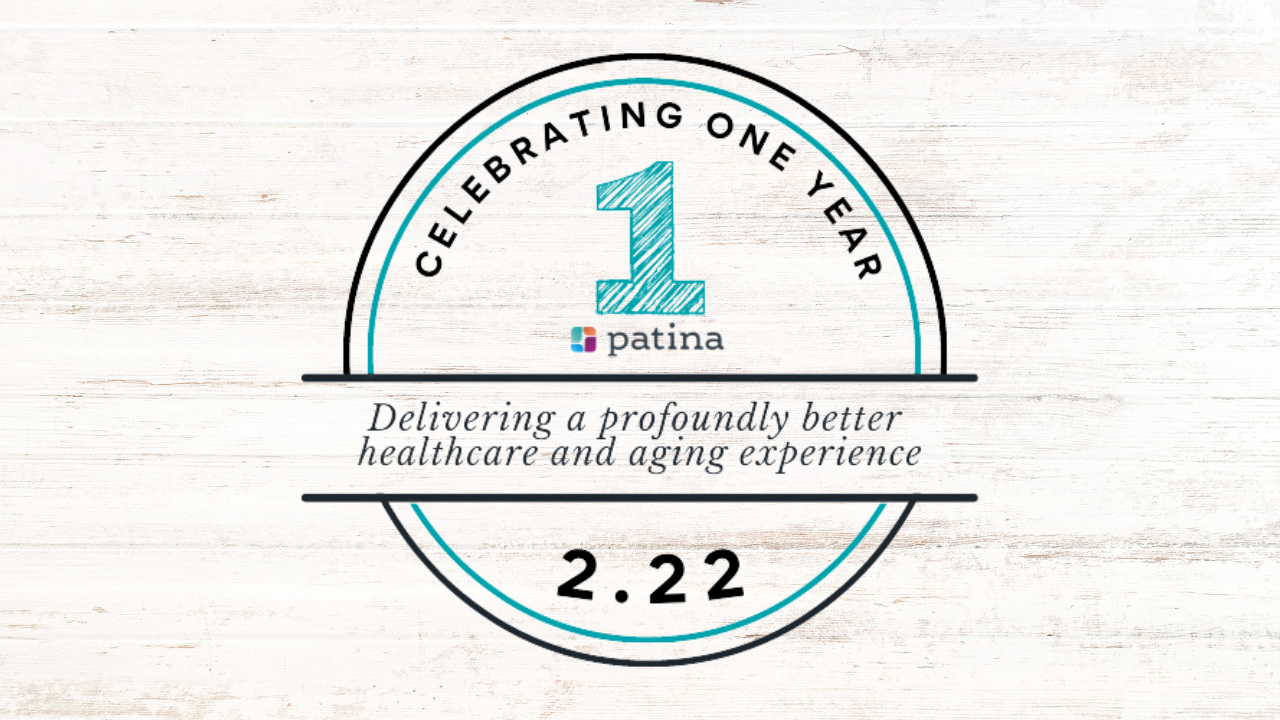 One Year of Profoundly Transforming the Healthcare and Aging Experience
Patina was built on a simple hypothesis. We can help people live their best lives, and fundamentally transform the healthcare and aging experience in this country, by driving key changes: taking time to get to know people; understanding their priorities, goals and preferences; and supporting them across their aging journey through personalized, whole-person care. To do this we'd need to attract the best and brightest people in healthcare to build the underlying culture, processes and technology that enable primary care to be more personal, convenient, comprehensive and coordinated.
We started working on Patina in 2019 by embarking on extensive research and countless interviews with older adults, their families and loved ones. We learned about their unmet needs and challenges with the existing healthcare experience, and used this insight to create the blueprint for Patina. And now, as we celebrate our one-year anniversary of serving patients, I'm honored by the many people who have put their trust in Patina – and I'm thrilled to see the profound impact we're having on their lives.
It Starts With Relationships
Building trusting relationships with the people we serve is at the heart of what we do. We take time to know our patients, learn their preferences and understand their full life context. We support the whole person with a care team model that addresses physical health, mental health and social needs. So much of healthcare today takes a diagnosis and treatment approach. That's not healthcare – it's sick care. We reject that idea and are focused on optimizing each patient's health so they can truly enjoy life on their terms.
We also believe that if you are going to make healthcare more personalized and accessible, it should be delivered where people want to be: in their home. Unlike brick-and-mortar clinics where the care team is at the center, Patina puts every person we serve at the center. We deliver care on their terms through a hybrid approach of our web/mobile app, video, online messaging and phone, and in-person visits in their home. This not only makes care more convenient and accessible, it allows us to truly understand the person in the context of their social support, physical environment and community, so we can tailor their care for them.
Technology is a critical element in how we develop trust-based relationships and personalize care for each person we serve. It forms the basis for how our patients communicate with us, and how our care team communicates with one another. It enables real-time data sharing of vital signs and other health data. And it provides the foundation needed to develop personal care plans.
Discovering Better Primary Care
I think of people like Dave Hansel, one of our patients. At age 70, Dave thrives on being active. He creates stained glass sculptures. He's president of a local charity. And he wouldn't miss his annual trip to Canada to fish for Northern Pike, Walleye and Muskies with his brother. Yet for years, Dave wasn't getting the care he needed. Even with both shoulders and a knee replaced, he was in constant pain. He bounced from specialist to specialist, caught in a spiral of appointments and new faces, none of whom knew his complex history or his goals and preferences.
Dave told us, "I was being treated by a rotating cast of clinicians who didn't have time to get to know me. Patina takes a totally different approach, and I couldn't be happier. It has been like night and day."
Dave now has his own care team that supports him, and he gets immediate answers to his questions about his physical and mental health, insurance benefits and aging experience. When, for example, his orthopedist recommended another knee replacement surgery, Patina's Michelle Lu, NP, now Dave's primary care practitioner, discussed with him the surgery's risks and benefits. She shared in his decision making to help him determine if the surgery would be the right choice, given his goals, preferences and lifestyle.
She also immediately responded when Irene Yeboah-Ameah, RN, Dave's Patina Nurse Champion, had concerns about Dave's low blood pressure during an in-home check-up. Information from the blood pressure monitor was fed directly to Michelle via the Patina platform, and she was able to see the numbers in real time, talk with Dave about the results and adjust his medication.
A Care Model Built for Equity, Access and Scale
As Patina marks one year of providing a profoundly different healthcare experience, I'm moved to see our model truly making an impact, humbled by the Patina crew who works tirelessly every day to achieve our goals and inspired by the patients we serve. Today we support a diverse mix of people across southeast Pennsylvania – different races, ethnicities and backgrounds – who range from ages 65 to 102 (proof that good care knows no age boundaries). This year we will be expanding to other regions of the U.S.
But this is just the beginning of what I hope will be a long and rewarding journey – one that culminates with every person having the opportunity to live their best life, age with dignity and feel seen, respected and supported through it all. And as for Dave, I hope the Northern Pike are biting this summer.