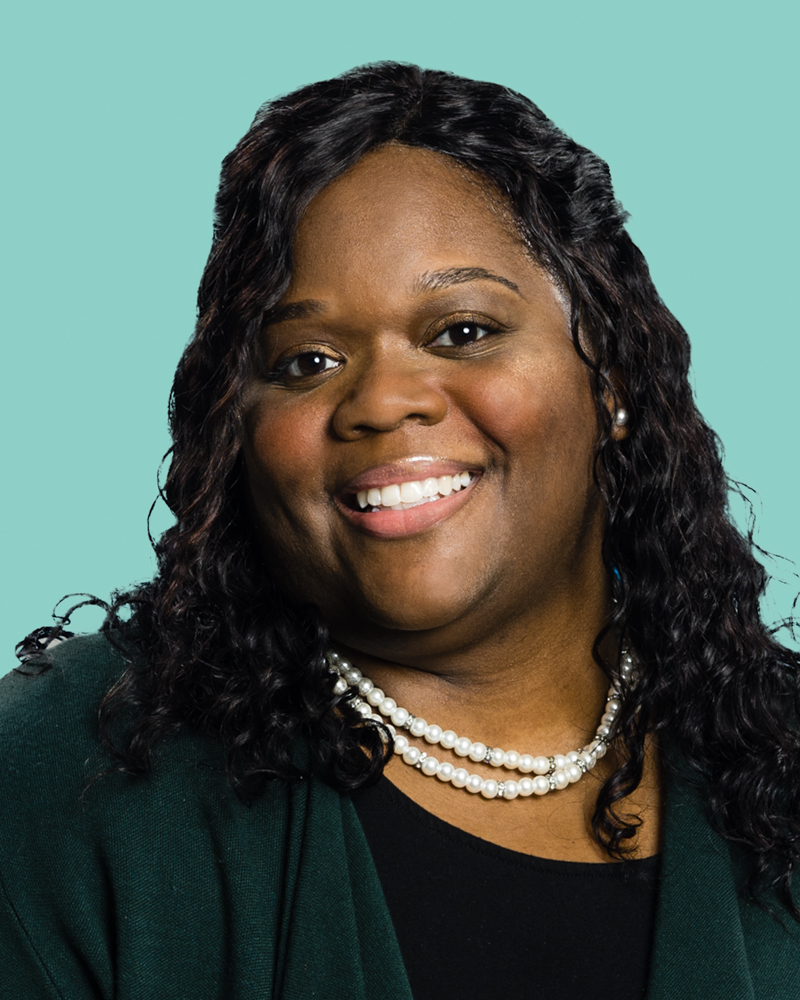 Q&A:
JaCarla Royall
Meet JaCarla Royall, one of Patina's Health Champions. JaCarla's role as a Health Champion is to serve as the go-to advocate for her patients. Her job is to take time to get to know each patient she works with, understand their unique needs and goals, coordinate care, locate resources and answer any questions they might have about their health and aging experience.
Originally from Chicago, JaCarla currently lives in Mount Airy, where she enjoys spending time with her husband and their two children. A graduate of La Salle University, JaCarla has an extensive background in healthcare and is eager to help her patients better understand their healthcare options. We asked JaCarla a few questions about her role as a Health Champion, what she enjoys most about supporting patients and more. Q: Tell us a bit about yourself.
I am a very family-oriented person. Whenever I have free time, I love to spend it with my husband and our two children. The oldest is five years old, and the youngest is two years old. During the weekends we try to spend as much time as possible doing fun activities together, whether it's having cousins over to the house, going to museums or going on playdates. I'm originally from Chicago, but I moved to Philadelphia for graduate school and stayed to pursue my career in healthcare.
Q: What were you doing before you joined Patina?
I worked for a health benefits company for 10 years, where I served as the first point of contact for people looking to access their health benefits, answering any questions they had about billing, medications, affordable prescriptions and food and financial stability. Any question you could think of related to health and healthcare, it was my job to find a way to help. My role was on the other end of healthcare – the health plan side – so I was regularly calling doctors' offices on behalf of my members.
Q: What drew you to Patina?
Patina's mission to help older adults get the healthcare and aging experience they deserve resonates with me deeply. Aging is a beautiful thing. Too many people view it negatively. I'm reminded of my grandparents, and of my great-grandmother, who's 94 years old. I think about her, about the healthcare and aging experience she deserves and how I would want someone to interact with her. Everyone needs people around them who care and who genuinely listen to what you have to say.
I love helping people, and I'm able to do that effectively, every day, at Patina. I don't believe that things happen by chance; everything happens for a reason, and we are all here for a purpose. And I believe my purpose is to help people. I do that every day through conversations I have with my patients. I love being able to connect with them. You never really know what someone is going through, but you can try to find out – and the way to do that is by lending an ear, being someone whom my patients know they can call.
Q: What are some things you can do as a Health Champion that the average primary care office wouldn't be able to do?
My job as a Health Champion is to be the go-to person for every one of my patients, and with my background in healthcare, I'm able to help them with everything from their benefits, to coordinating care between provider offices and more. Most importantly, I'm here for my patients. I'm an outlet for them to talk about their concerns at any given time, either over the phone, through messaging or video. And what I do goes beyond just listening – I have solutions, and I advocate for my patients.
Q: How do you work with your patients at Patina?
I start with authentic listening, and allowing my patients the time and space they need to be heard. Asking my patients about their day, with a genuine curiosity and concern about how they're feeling, can open so many doors to helping them feel the way they want to feel, and live the life they want to live. So often, I find my patients encounter other healthcare providers who never listen to them. You can learn so much about a person's life, their health, their values, when you let people talk freely about what's going on in their lives. Because so many of my patients are on fixed incomes, I try to keep their financial wellbeing in mind when we're having a conversation about their health, their care and their benefits.
For example, let's say I have a patient who has recently started taking care of their grandkids, they are dealing with higher utility and food bills as a result, and are becoming more concerned about the cost of their medication. I can bring this to their PCP's attention to see if there is a more affordable alternative. I'm paying attention to what I'm hearing in the context of what I already know about that patient. They have a family that's dependent on them, and they are feeling financially insecure. In addition to working with their care team to find an alternative or generic medication, I can work to find community resources for food, or financial resources for help with utility bills. That's the kind of help I provide by listening to my patients, by understanding them in the context of who they are, what they value, and how they live.
Q: How do you work with patients' family members who want to stay in the loop and be involved with their loved ones' care?
Many of my patients like to have their family members involved with their care, and at Patina, we make those loved ones official members of the care team. We start this process during our very first call. With the permission of patients, we're able to reach out to their loved ones and give them authorization to join our care team on our mobile or web app. They can send me messages if they need anything – maybe they need to get a prescription refilled for my patient or they have questions about recent symptoms. They are treated the same way I treat my patients – I'm available whenever they need me, and I keep them in the loop on their loved ones' care.
Q: What life lessons have you learned from your patients?
I had a patient recently who gave me some advice that really resonated with me. They said, "You make decisions when you're younger that can impact your health when you're older. But it's not how you start – it's how you finish." We can all start going down paths in life that are not the best for our health. But if you look around, you can find ways to change your course. To me, Patina is that path to the healthy and independent aging experience we all deserve.