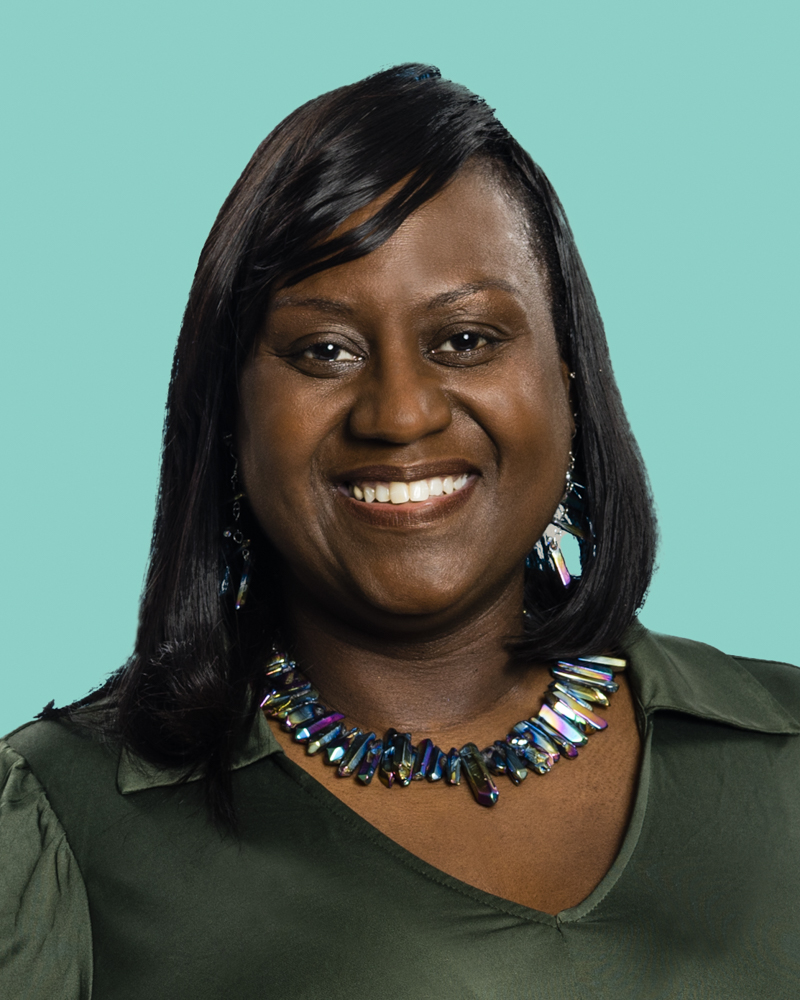 Q&A:
LaKisha Blackwell
Meet LaKisha Blackwell, one of Patina's Health Champions – or, in her words, "the person you didn't know you needed." As a Health Champion, LaKisha is a day-to-day advocate for her patients, working to provide them the healthcare and aging experience they deserve. Her job is to take the time to know each patient she works with, understand their needs and goals, coordinate care, locate resources and answer any questions they have.
LaKisha lives in Pennsylvania's Montgomery County with her husband and their children. When she's not working hard for her patients, LaKisha enjoys traveling – especially going on cruises. A graduate of Penn State University, LaKisha has a background in healthcare and is a former elected official. We asked LaKisha a few questions about her role as a Health Champion, how she likes to work with patients and more. Q: Tell us a bit about yourself.
I was born and raised in Chester. I have one brother, and my father was self-employed. He was a community-oriented person, so I participated in a lot of community events and functions. I spent many weekends at the local gyms playing basketball, setting things up for events and even traveling to New Orleans and San Juan for all-star games. After graduating high school, I went to Penn State – I am a Nittany Lion – and studied agriculture. People always ask how a city girl ends up in agriculture. My grandparents lived in the South, and they tended to their own land. Whenever I visited, we would eat off the land. It inspired me to get a degree in agricultural science.
Q: What were you doing before you began working for Patina?
I spent the majority of my career out of college with the City of Chester, where I managed the Parks and Recreation Department. I spent my days in the park, designing playgrounds, helping design pools, doing landscape maintenance, park grounds maintenance and anything to do with facilities. During that time period, I was also an elected official for the school district as a school board director.
But, once I finished that chapter in my life, I got into healthcare. I spent years taking care of my sick father. I wanted to make sure I knew and understood what was going on with his health, and how to navigate the healthcare system to help him get what he needed. I went to nursing school to get my second degree, but my father passed in the midst of my studies and it was too difficult to go back. I wanted to find something else I could do, where I could be of service to people who were sick. I ended up on the health plan side of the healthcare industry, helping people navigate their healthcare.
Eventually, I found my way to Patina. Here, I'm able to look at the whole patient and support their needs. As a Health Champion, I get to be an avenue for my patients to get the healthcare and aging experience they want and deserve.
Q: What drew you to Patina?
I'm lucky enough to still have my grandparents, and my mother is 71, so I see their daily struggles with their own healthcare experiences. Getting the healthcare experience you want can be confusing and difficult. I wanted to join an organization where I could support others as I support my own family. As a Health Champion, I can do just that. I am able to take time to get to know my patients, check in with them and explain things to them in clear terms I know they'll understand. Perhaps most importantly, our patients lead their own care. It's groundbreaking.
Q: What are some things you can do as a Health Champion that the average primary care office wouldn't be able to do?
I'm able to take time with my patients to have conversations. A lot of my patients live alone, and they don't have loved ones around them all the time. I can spend 30 minutes on the phone catching up with a patient, hearing about their day – laughing, talking, making sure they're comfortable. They know I'm a phone call away if they need me. You can't get that from a regular doctor's office – they focus entirely on health needs. We focus on the whole person. Spending time with my patients allows me to get to know them in the context of who they are, what they value and how they prefer to lead and experience their healthcare and aging journey.
Time is the secret sauce we bring to the table. Your first appointment with an average primary care office will mostly be spent in the waiting room, and you might spend 10 or 15 minutes seeing a clinician. My patients are always surprised to find out that we spend much more time together during their first virtual appointment and their in-home appointments. We offer our patients a lot of face time with their care team. Other practices just don't make the time to deliver the healthcare and aging experience we're able to offer our patients.
Q: How do you work with your patients at Patina?
They say "time heals all wounds," and for some of my patients, those wounds are deep because they haven't been listened to. They don't feel heard, or that their concerns matter. My patients have a lot of wisdom – they've experienced so much in their lives – and they can generally tell when the person on the other end of a conversation is there for the right reasons. So, the priority for me is to spend time with my patients, showing them I care by listening to their concerns and their stories, answering their questions and giving them the support they need. I've found that the more time I spend with my patients, the more layers I peel back, the more I understand and the more we trust each other. That foundation of trust is so important to a good healthcare experience. My patients know they can tell me what they need and I will do it for them.
Q: How do you coordinate care for your patients?
A lot of my patients see several specialists, and part of my job is to get their appointments organized and help my patients get the care they need, when they need it. The first thing I do is make sure my patients understand why they're going to the specialist in the first place, and prepare them with questions to ask while they're there. I'll then double check to see if the specialist they want to see is in their network. A lot of people don't realize if they go to an out-of-network provider, they'll pay additional out-of-pocket costs. I'll make sure my patients have transportation to their appointments – and, if they don't, I'll either set up transportation or see if the specialist will offer virtual options for that appointment.
Then, I make sure the specialist is up to date on my patient's medical history, on their current list of medications and the reason for their appointment. It's all part of making sure every clinician my patient sees is on the same page as their Patina care team. We go the extra mile to coordinate care and ensure our patients' healthcare experience is seamless and convenient, that they're getting the care they need from every provider and that their time with clinicians is always well spent.
Q: How do you work with patients' family members who want to stay in the loop and be involved with their loved ones' care?
At Patina, we make it easy for our patients' loved ones to be part of their care team. With a patient's permission, loved ones can log into our web or mobile app, send messages to the rest of the care team and access the patient's care information. They can see any appointments that are scheduled, and can join virtual visits. We make sure they're kept abreast of what's going on with the patient's care. Part of my job as a Health Champion is to stay in communication with any loved ones on my patients' care team, through the app or over the phone, and make sure they're comfortably involved. A lot of times, my patients' loved ones are also their caregivers. They can be stressed – they might be working a full-time job or taking care of their kids on top of being a caregiver. I strive to make sure they understand that Patina is also here for them, to provide support and make their lives easier.
Q: What life lessons have you learned from your patients?
My patients have taught me to take life one day at a time. It's a common refrain from many of my patients – they understand that some things just can't be rushed. In today's society, everyone is in a hurry, all the time. I'm learning to take time to enjoy every moment.