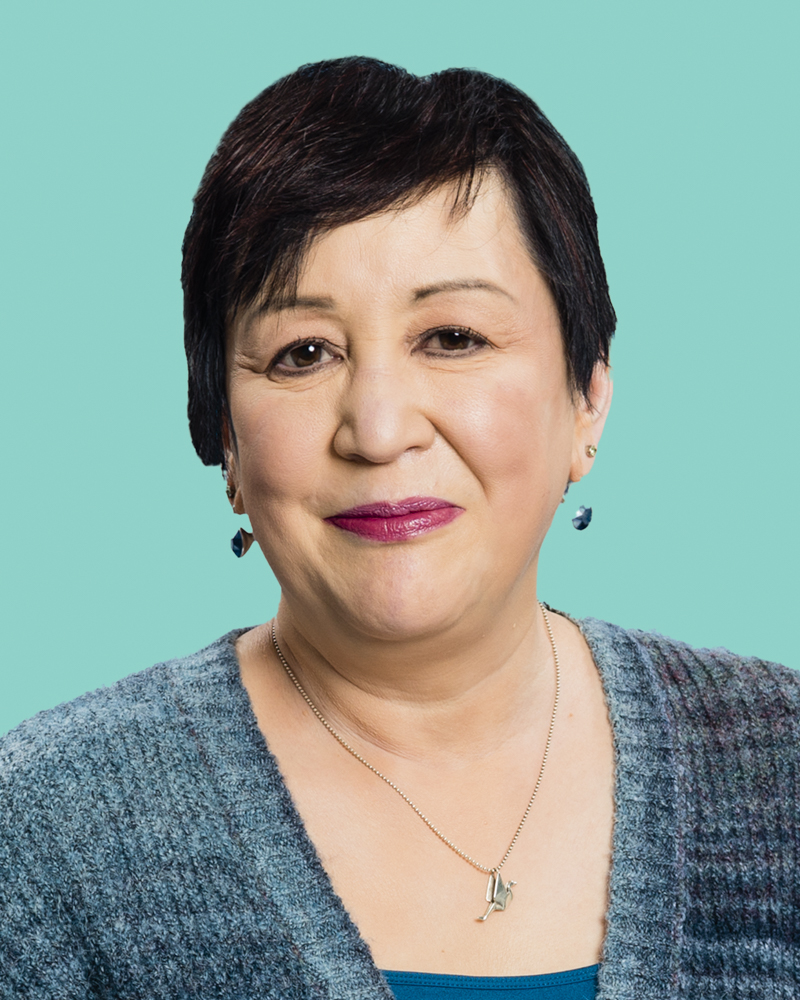 Q&A:
Valerie Voluntad
Meet Valerie Voluntad, one of Patina's Health Champions. As a Health Champion, Valerie is the go-to advocate on her patients' dedicated care team. Her job is to take the time to get to know each patient she works with, understand their needs and goals, coordinate care, locate resources and answer any questions patients might have.
Valerie, who lives in the Chestnut Hill neighborhood of Philadelphia, has spent her entire career helping people, making her a uniquely qualified Health Champion. Outside of work, Valerie enjoys cooking for company, getting together with friends and family, going to the beach, walking trails and practicing mindfulness and yoga. We asked Valerie a few questions about her role as a Health Champion, how she works with patients and more. Q: Tell us a little bit about yourself.
I was born and raised in Philadelphia. I have one son and two amazing grandsons who call me Lola, which means grandma in the Philippines. I have a sense of humor and tend to be a little loud – or at least, that's what my coworkers tell me. But I think it's just the excitement that I get from the patients that I'm talking to. My first name means strong, and my last name means good-willed, and my family says that I'm strong-willed. I'm the one who takes care of health-related things and emergencies. I've gone through that with my brother and with my elderly parents. I'm calm, and it's easy for me to help people maneuver around a healthcare system that can often feel overly complicated.
Q: What were you doing before you joined Patina?
I've worked in social services for years. I've always wanted to help people, and I've worked with a number of different populations. I've worked with pregnant moms and teen moms, with domestic violence victims and survivors, with HIV/AIDS patients and cancer patients. I was the Director of Diversity and Inclusion at a health system in Delaware County for a time.
Q: What drew you to Patina?
What attracted me to Patina was our organization's mission to provide adults 65+ the healthcare and aging experience they deserve. Having worked in this industry and being a caregiver for my 89-year-old mother, I know the challenges older adults often face. She's fortunate that she has me to advocate for her. Too many older adults don't have somebody to help explain how their health plan works, to help manage their medications, to help them stay up to date on their vaccinations and to ensure they have everything they need to age well. That's what we're doing at Patina.
Q: What are some things you can do as a Health Champion that the average primary care office wouldn't be able to do?
In addition to home visits, patients can reach us on demand, whether it's over the phone or through our mobile and web app. We locate resources like transportation and advocate for patients to get them the appointments they need when they need them. We also do the legwork to help our patients meet with their specialists – or even find new specialists if they're not happy with the ones they're seeing. It's a group effort across the care team members working with our patients. We discuss what's going to be best for each patient and who's going to take the lead on getting them what they need. If a patient needs information about a wheelchair, for example, I'm going to do whatever I need to do to gather the medical information and submit their request to their health plan. We have a team of patient service coordinators to help us with that, as well.
Q: How do you work with patients at Patina?
First, I learn about my patients – their stories, what makes them tick, what's going on in their lives. I recently went on a home visit with one of our nurses to meet a patient, who kept apologizing because she didn't understand that this IS our job. This is what we're here for – to answer questions, build a relationship and better understand their goals and preferences. We were able to spend more time with her than she would have spent with a practitioner in a typical primary care office. Do they have support? Do their family members visit often? What are their hobbies? I think many of our patients are frustrated with how they've been treated by doctors or specialists in the past. They have felt invisible, unheard and disrespected. I've experienced that myself, and it's not a good feeling. I want to make sure that they know that I see them, hear them and respect them.
Q: How do you coordinate care for your patients?
It's a team effort. I huddle with my patients' care team throughout the week. We discuss what's going on with each patient, what is going to be best for each patient in context of who they are and what they want, and who will take the lead on making sure each patient gets what they need. We'll make sure to coordinate with the specialists our patients see, to make sure they have all the information they need. Sometimes, we're able to save patients from unnecessary appointments – they might not have to see the urologist they see once a year because a Patina Primary Care Practitioner may be able to provide the care they need. That level of service and care can make a big difference for patients, especially if they have financial challenges.
Q: How do you bring your prior experience to your role as a Health Champion?
Having worked in social services and healthcare all of my life, I bring a lot of knowledge of the system and an understanding of how to help people to the table. I can explain to somebody why they might need authorization before receiving equipment, or why their health plan covers one thing but not another. For example, people often think custodial care is covered by their plan – they might need somebody to help bathe them, dress them or cook for them. More often than not, that's not something that's covered under their benefits. But there are other ways to work with the system to get people the resources they need. It's fun for me to find these resources for people, and to be able to say, "Hey, did you know that I found a person who can come to your home and cut your hair?"
Q: Having had such a robust career in healthcare and social services, what makes Patina different for you?
At Patina, I'm surrounded by people who care about our mission to provide older adults with the healthcare and aging experience they deserve. That is pretty unique. Everyone here wants to be better than the best. I'm incredibly proud and amazed by the care team I'm working with and what we do for patients. It just blows my mind.